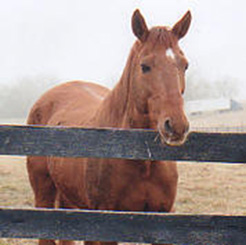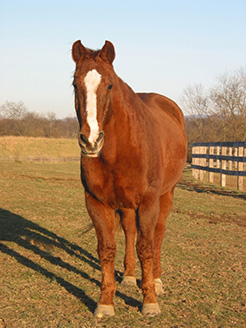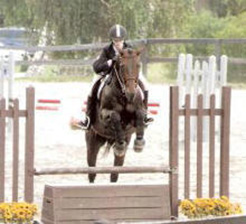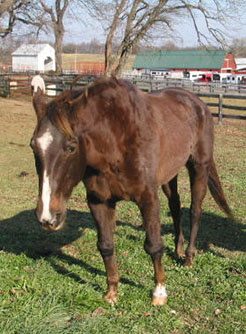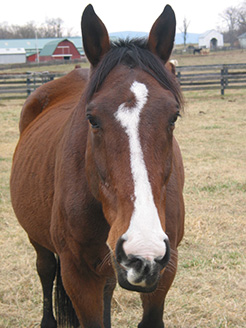 Adrian

Adrian was a Chestnut TB cross gelding. Born on 1/1/84, he
came to us in January of 2003. Adrian spent only one short
year in retirement before leaving us peacefully on Feb.3, 2004.
In his last years before retirement, he was lucky to fall into
the hands of one of the kindest, capable horsewoman I have
met. Adrian was calm and deliberate in his manner and his long
hair coat down to his hoofs gave him a comical appearance.
He will always be remembered fondly by those who knew him
and he will always have a special place here on the farm.
Mister Ed
"Ed" was a 16.1h Chestnut Quarter/TB gelding. As near as can be determined, he was born in 1978 and was with us for six years. He was very happy during that time and left wonderful friends behind. It is not the same without him, the group was initially disjointed. I never noticed that Ed was the boss; but quietly he must have been. We miss him dearly. He was always the one waiting at feeding time. On the morning of April 10, 2009, Good Friday, Ed was ill. I think his internal clock knew that this was his time, he kept nudging me during the night as if to let me know. I tried to dismiss his intentions, because it was not what I wanted to hear. In the early morning on April 11, Ed left us. The farm will not be the same without him. Thank you Sarah for sharing Ed.
Esscapade (Wesley)

Wesley was a bay gelding standing a big 16.3 hands and he sadly passed at age 20 on August 19, 2010. He was one of those "must have" horses that brought a smile to everyone's face. Wesley was a sweet personality and touched everyone he met. He was extremely honest and bold; guaranteeing a safe ride for all. He demonstrated an absolutely bombproof attitude when riding and on the ground. Originally from Florida, Wesley had also shown throughout the east coast and Canada. Wesley has left a void at our farm and anyone who ever met him knows that he was truly one of a kind. Thank you Elizabeth for sharing Wesley.
Hank's Dark Beauty

This sweet Quarter Horse mare left us at 30 years old. "Beauty"
was certainly a beautiful example of the treasured foundation lines. Until the age of 25, she had never been off her farm in Aldie, VA where she was born. She came to Elmington and made many friends. Beauty even had the heart to put up with a weanling filly who like all children, demanded her attention. She enjoyed visits from her owner, carrots, and basking in the sun. It was truly a pleasure to take care of Beauty and a joy to have dealt with the family who loved her for so many years.

Shendo
Shendo was, according to his owner, a two syllable horse.
I was told this when I assumed that his name was short for
Shenandoah.  Shendo was seemingly a collection of spare
parts that gave him a kind of "cartoon" appearance. His
character, however was solid as the day was long. He
always stood up for the underdog in the field, even at his
own expense. In his last few years he took it upon himself to
babysit yearlings, a job that he took very seriously. Shendo
had his share of life's unfortunate lameness issues, but he was
always stoic. Shendo moved slowly and deliberately with his
aging physique and only once, at the very end of March 2011,
laid down with the belly ache that indicated that he was done.
He had a great life with a loving owner who always put his
best interest first and he will be fondly remembered.